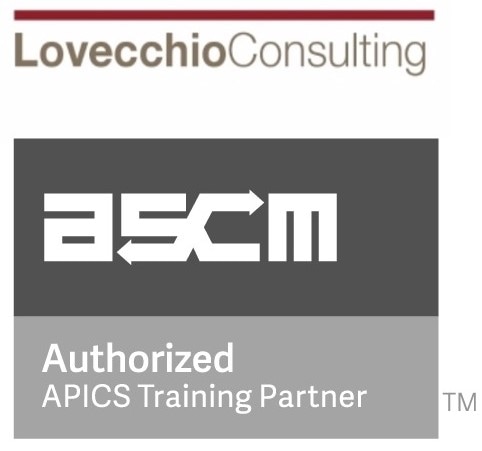 CORSO APICS SCOR-P - LIVE ONLINE
LIVE ONLINE COURSE APICS SCOR-P
(Supply Chain Operations Reference)
Organizzato da Lovecchio Consulting insieme all'ASCM SCOR PARTNER
Organized by Lovecchio Consulting together with the ASCM SCOR PARTNER

Il corso SCOR-P (tra i primi corsi erogati in versione DIGITAL STANDARD) consente di acquisire le competenze per gestire progetti complessi di supply chain, basandosi su un robusto framework sviluppato e messo in atto nelle più importanti aziende a livello internazionale.
The SCOR-P (one of the first ones to be delivered in the new DIGITAL STANDARD version) will allow to get the skills to manage complex supply chain projects, based on a robust framework, and developed and applied in the most important companies around the world.
Luogo del corso/place: live online
Date di avvio/Starting dates: 19 NOVEMBRE 2021 - 14 GENNAIO 2022 . Ore 16-19
19 NOVEMBER 2021 - 14 JANUARY 2022. From 4 pm to 7 pm (CEST Rome time ; GMT +2)
Numero totale sessioni /Total number of sessions: 6
Altre sessioni: Ogni venerdi successivo con sessioni di durata di 3 ore ciascuna / Other sessions: every next friday with each session of a 3-hour duration.
Durata totale/Total duration: 18 ore / 18 hours
Il corso si terrà in lingua inglese/ The course will be held in english.
CONTENUTI PRINCIPALI / MAIN CONTENTS

Part 1
Using the SCOR model
SCOR Performance
SCOR Processes
SCOR Practices
SCOR People
Part 2
Sustainable SCOR
SCOR Improvement Program: Concepts and Practices
PRE-SCOR Improvement Program Steps: Overview
PRE-SCOR Case Study
S: Set the Scope
S: Set the Scope Case Study
C: Configure the Supply Chain
C: Configure the Supply Chain Case Study
Part 3
O: Optimize Projects
O: Optimize Projects Case Study
R: Ready for Implementation
R: Ready for Implementation Case Study
DOCENTI / INSTRUCTORS:
DERK KUIPER, CPIM-F, CSCP, CLTD, DDPP, DDLP, ACPF, SCOR-P
GIUSEPPE LOVECCHIO, CPIM-F, CSCP-F,CLTD-F, DDPP, DDLP, PMP, SCOR-P
APICS Master Instructors
CLICCA QUI PER LA BROCHURE IN ITALIANO