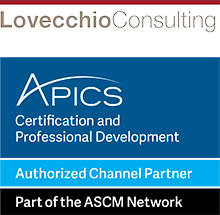 CORSO APICS CPIM PARTE 1 ONLINE LIVE
(Certified Production and Inventory Management - Parte 1)
Obiettivo

Questo corso sviluppa le competenze necessarie per conseguire la certificazione internazionale "Certified in Production and Inventory Management (CPIM)" dell' APICS, la maggiore organizzazione globale in supply chain ed operations.

Benefici
Adottare standard e protocolli in ambito operations diventa fondamentale per distinguersi grazie ad un approccio metodologico, ed essere riconosciuti come esperti nella materia, in modo da proporre e realizzare le giuste soluzioni.
LUOGO DEL CORSO: ONLINE LIVE SU PIATTAFORMA GOTOMEETING
DATA DI INIZIO: 11 GENNAIO 2021
ALTRE DATE: OGNI LUNEDI
NUMERO DI SESSIONI: 5
DURATA DI UNA SESSIONE: 3 ORE
ORARIO DI CIASCUNA SESSIONE: DALLE 17.30 ALLE 20.30
DURATA TOTALE DEL CORSO: 15 ORE
CONTENUTI PRINCIPALI
Module 1: Basics of Supply Chain Management (BSCM)
Section A: Introduction to Supply Chain Management
Section B: Manufacturing Design, Planning and Control
Section C: Quality and Continuous Improvement
Section D: Lean
Section E: Demand Management
Section F: Master Planning
Section G: Material Requirements Planning
Section H: Capacity Management
Section I: Purchasing
Section J: Aggregate Inventory Management
Section K: Item Inventory Management
Section L: Execution and Control
Section M: Physical Distribution
La certificazione CPIM si ottiene al superamento degli esami della parte CPIM 1 e CPIM 2.
APICS Master Instructor e Subject Master Expert del learning system CLTD
Demand Driven Endorsed Instructor