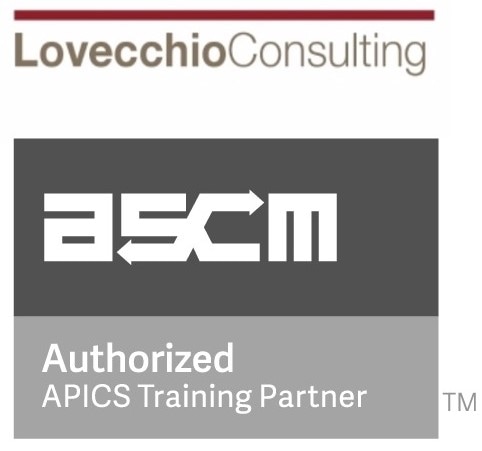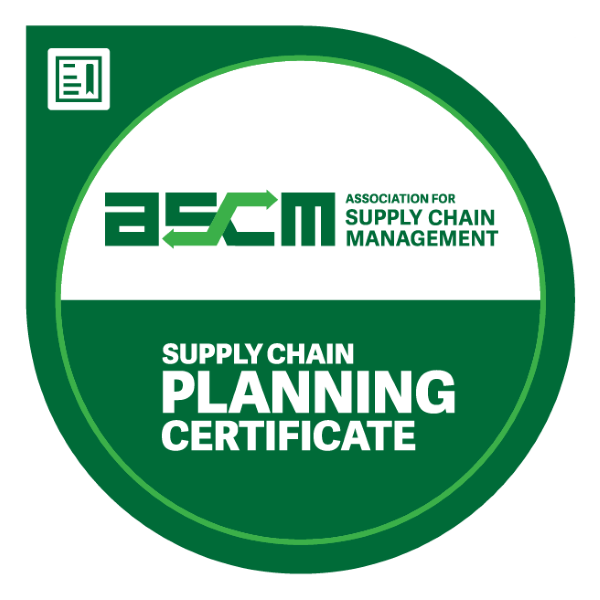 CORSO ASCM PLANNING CERTIFICATE - LIVE ONLINE
LIVE ONLINE ASCM COURSE PLANNING CERTIFICATE
Questo corso si occupa di preparare le figure professionali come il planner.

Benefici
Adottare standard e protocolli in ambito planning è essenziale per distinguersi grazie ad un approccio metodologico, ed essere riconosciuti come esperti nella materia, in modo da proporre e realizzare le giuste soluzioni.

Il programma Supply Chain Planning Certificate è un programma di formazione di base progettato per aiutare sia i professionisti entry-level che quelli esperti della supply chain ad espandere le loro conoscenze e competenze di pianificazione. Il programma fornisce una panoramica dei fondamenti di pianificazione della produzione.
This course is designed to prepare planning managers, buyers and supplier schedulers to perform activities inside the procurement function.

Benefits
Adopting standard and best practices in planning management is key to stand out from the crowd with a methodological approach, and be recognized as experts in the field, in order to advice and apply the right solutions.

The Supply Chain Planning Certificate program is a foundational education program designed to help both entry-level and experienced supply chain professionals expand their planning knowledge and skills. The program provides an overview of planning fundamentals. You'll be better equipped to:

Explain why companies plan.

Describe how the various levels of business planning work with each other.

Identify the components of the manufacturing planning and control (MPC) model.

Define synchronized planning and identify synchronized planning level-two capabilities.

Define the digital competency model (DCM).

Identify technologies that support synchronized planning.

Explain why it is important to understand the principles and processes underlying, manufacturing and distribution technology
Luogo del corso/place: live online
Date di avvio/Starting dates - 2023 year:
| | | | | | | | | | | |
| --- | --- | --- | --- | --- | --- | --- | --- | --- | --- | --- |
| JAN | FEB | MAR | APR | MAY | JUN | JUL | SEP | OCT | NOV | DEC |
| 10 | 7 | 7 | 4 | 9 | 6 | 4 | 5 | 3 | 7 | 12 |
Orario / Time: Dalle 17.30 alle 20.30 - From 5.30 p.m. to 8.30 p.m. (Rome time GMT+1)
Numero totale sessioni /Number of sessions: 6
Altre sessioni: ogni martedi successivo con sessioni di durata di 3 ore ciascuna / Other sessions: every next tuesday with each session of a 3-hour duration.
Durata totale/Total duration: 18 ore / 18 hours
Il corso è erogabile in italiano, inglese o francese / The course can be held in italian, french or english.
Oltre il corso, sono necessarie almeno 20 ore di studio individuale per prepararsi all'esame / Beyond the course, at least additional 20 hour of self study are necessary to do the exam.
CONTENUTI PRINCIPALI / MAIN CONTENTS

MODULE 1: Synchronized Planning
Planning
Manufacturing Planning and Control (MPC) System
What Is Synchronized Planning?
Additional Digital Information Technology for Supply Chains
MODULE 2: Strategic Planning–Business Planning
Market and Technology Variables in Business Planning
Planning Horizons
Synchronized Business Planning Hierarchy
Other Tools and Techniques to Support Synchronized Business Planning
MODULE 3: Strategic Planning–Demand Planning and S&OP
Demand Planning
Sales and Operations Planning (S&OP)
MODULE 4: Tactical Planning–Master Scheduling/MRP/Capacity Management
Master Scheduling Overview
The Master Scheduling Process
Material Requirements Planning Overview
The MRP Process
Capacity Management
Closed-Loop Planning
MODULE 5: Operations Execution–Purchasing and Production Activity Control, APS
Purchasing
Production Activity Control (PAC)
Advanced Planning and Scheduling (APS)
MODULE 6: Distribution and Logistics Planning
The Role of Distribution in Supply Chain Management
Channel Network Design
Inventory Planning
Warehousing
Transportation
Information Systems
Il materiale didattico e l'esame ASCM per ottenere il certificato sono in inglese. / The course material and the ASCM exam to get the certificate are in english.
DOCENTE / INSTRUCTOR: GIUSEPPE LOVECCHIO
Giuseppe Lovecchio is APICS Master Instructor, Subject Matter Expert, part of the ASCM Subcommitte updating CSCP and CLTD learning systems, and of the ASCM technical contributorsteam, updating SCOR to SCOR DS
Demand Driven Endorsed Instructor
ALTRI CORSI APICS /OTHER APICS COURSES


Il materiale didattico e l'esame APICS per ottenere la certificazione sono in inglese. / The course material and the APICS exam are in english.
APICS Master Instructor e Subject Master Expert del learning system CLTD
Demand Driven Endorsed Instructor
ALTRI CORSI APICS /OTHER APICS COURSES